Want to Volunteer Right Away?
Volunteers Must:
Complete the application process
Be over the age of 18
Use their own vehicles
Not be completing court ordered community service
Be able to pickup and deliver in Lehigh, Northampton or Carbon Counties
Volunteer Opportunities
Daily Meal Delivery Volunteers
Generally, these volunteers are available on a daily, weekly, bi-weekly, or monthly basis. Delivery volunteers start between 10 a.m. and 11 a.m. Monday through Friday, and most routes take about 90 minutes. Meal delivery volunteers pick up meals at one of our convenient pick-up sites and then deliver meals to the clients on the route.
Grocery Shopping Order-Takers
Also available on a weekly, bi-weekly, or monthly basis, grocery shopping order-takers come to the Meals on Wheels of the Greater Lehigh Valley office on Monday and Tuesday mornings to take client grocery orders over the phone and enter them into the computer. The orders are then sent to the designated stores.
Grocery Shopping Shoppers
Available on a weekly, bi-weekly, or monthly basis, grocery shopping shoppers are contacted on Monday or Tuesday to shop for a client during that week. Shoppers pick up the client's order at the designated store, shop for the groceries, and deliver the groceries to the client's home. Grocery shopping trip days and times are flexible.
Office Volunteers
Office volunteers are essential to our daily operations. We need volunteers on a daily, weekly, bi-weekly, and monthly basis. These volunteers perform clerical support duties such as mailings, filing, copying, scanning, answering phones, and entering data.
Senior Food Box Volunteers
Volunteers are responsible for delivering the Senior Food Boxes to homebound seniors the 2nd Tuesday of every month at 1 PM.
Senior Food Boxes are Second Harvest Food Bank's distribution of food through the Commodity Supplemental Food Program (CSFP), a federally funded program that is designed to improve the health and nutrition of low-income senior citizens. A supply of staple foods, provided by the USDA, are packed into boxes and distributed once a month to registered participants. The boxes contain cereal, juice, canned vegetables and fruit, evaporated milk, pasta, peanut butter, protein (beef, chicken or tuna) and cheese. Volunteers will need be able to lift and carry a 25-pound box. Carts are available to assist during delivery.
Food Pantry Volunteers
As a volunteer for a Food Pantry route you are responsible for picking up bags of non-perishable food items from one of several local food banks in the Lehigh Valley and delivering the food to several MOW clients in the surrounding area. Food pantry routes are delivered on a monthly basis; days and times vary.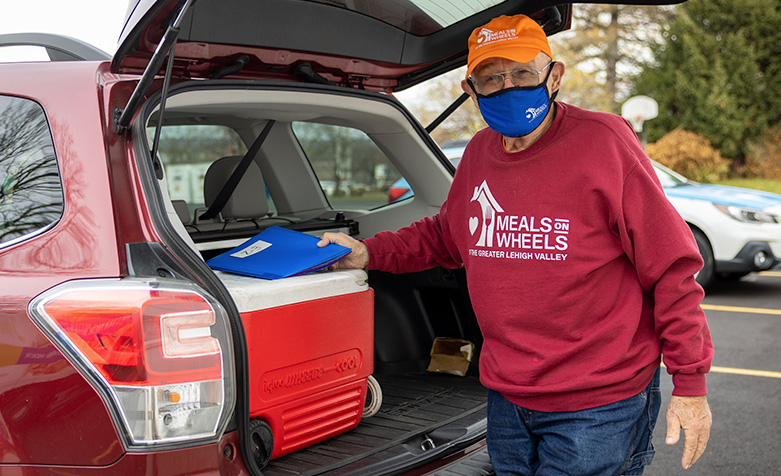 Join us today!
You can volunteer twice a month or every day as an individual or as part of a group. Yes, we count businesses, families, church groups, and others among our dedicated volunteers! Whatever your time commitment, we are so grateful for your dedication and talent.
Join us today in feeding Lehigh Valley seniors!