Away with you, Mr. Busy!
Firstly, I thoroughly enjoyed meeting some of you last month. It was good getting out and making connections with the workers of Meals on
Wheels. Chaplaincy is always best-done face-to-face. I look forward to meeting more of you as I begin making rounds to various route locations.
I started a new practice in my life a few years ago, in the midst of hectic church ministry and outside obligations. I was in contact with over 500 people weekly, creating an atmosphere where the word, "busy", was often heard. "Busy" is a very common and usually negative word in our American culture, isn't it? Being "busy" denotes unavailability or stress. "Hey, I'm sorry, I know you're busy…" often precursors a conversation or question. Three weeks ago I decided I'd ditch the word "busy" once and for all. Why? Because it's like people repellant. If someone believes I'm "busy" are they less likely to reach out for help? I think they are.
What is "busy" anyway? For many "busy" doesn't equal "available". In fact, it can be quite the opposite. The words "busy" and "efficient" usually aren't in the same sentence, either. "I'm so busy, I've lots of time and energy for myself and others," said no one ever.
As I focused on serving others in Chaplaincy, I found it necessary to stop being "busy" so I could have margin in my life. I've learned to say, "no" over the years – not popular to hear and hard for some to say. But saying, "no" to one thing, I open up space for saying "yes" to others. We must say yes to what matters most!
Above all, not being busy means I've made time to rest – which actually fuels my work. Not being busy and setting aside time to rest from all work has served me well in being productive when I'm available and active. Not being busy is an important ingredient in my personal health and in serving. It's something I didn't believe until I tried it.
I hope you're able to take time to rest for yourself. The saying goes, "You can't pour water from an empty pitcher." I pray you have the courage to say "no" so you can say "yes" to what matters most.
Being busy all the time empties us of the health and service we need in our lives. Be blessed as you serve!
Humbly,
Rev. Peter Keady, CC, CCISM
Chaplain, Meals on Wheels of the Greater Lehigh Valley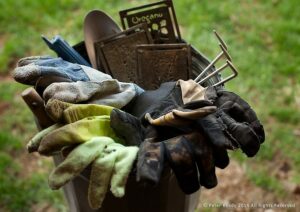 This is one of my buckets of gardening stuff. An assortment of implements, markers, and gloves. The tools always outlast the gloves – some gloves are completely worn through! These gloves are a lot like us when we're supposed to rest each day and week. The less rest we take, the more busy we are, the more quickly we can be worn through.
"The enemy of the best is the good."
FirstResponderCC.com                                                You're Worth It!                                               peter@FirstResponderCC.com 610.360.9750