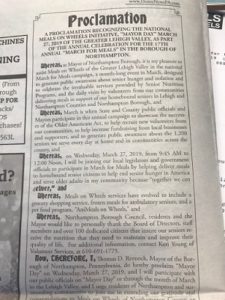 The Mayor of Northampton, Thomas D Reenock, has officially proclaimed that today, March 27th, is Meals on Wheels Day! His proclamation cites that he and Northampton Borough Council and residents would like to personally thank the Board of Directors, staff and dedicated volunteers that make sure our seniors receive the nutrition that they need to maintain and improve their quality of life.
Thomas Reenock will be joining other mayors and elected officials across the Valley to deliver meals during the month of March to participate in the March for Meals campaign, a national effort designed to generate public awareness about senior hunger and isolation and to celebrate the invaluable services provided by Senior Nutrition Programs, and the daily visits by volunteers from our communities.
As we draw to a close on this whirlwind month, we thank him, all those who have participated in March for Meals and our dedicated volunteers who deliver daily meals to over 2,000 seniors and people with disabilities who live throughout the counties — major cities of Allentown, Bethlehem and Easton; smaller towns like Whitehall, Catasauqua, Northampton and Emmaus and the rural areas like the Slate Belt.